◄ Back to Previous Page
Washing Maching / Washer Extrator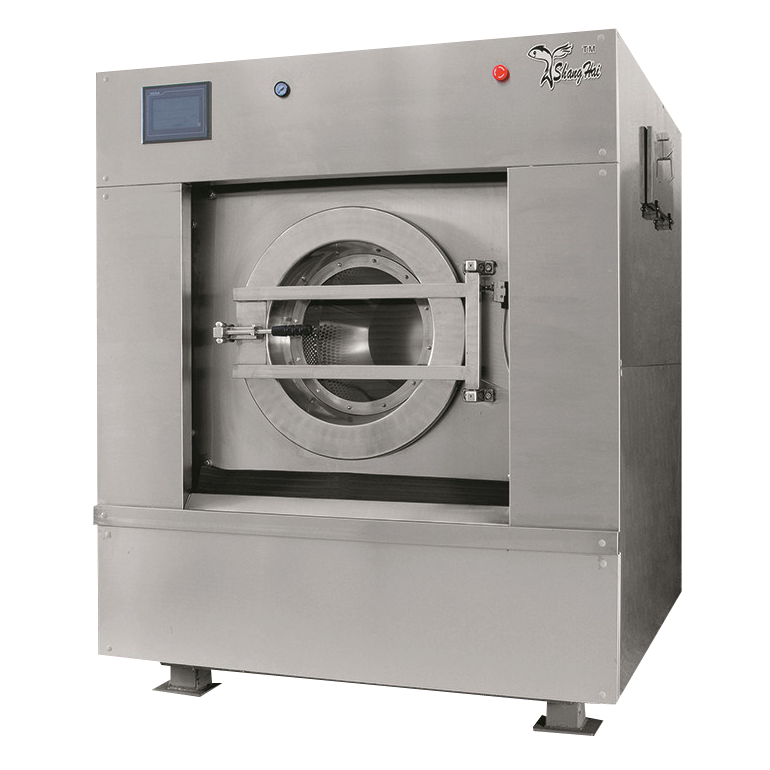 XGQ Series Automatic Washing Machine, Washer Extractor
Fully automatic, microcomputer-controller, 5 standard programs, with 30 additional adjustable programs, flexible for set.
Product Overview
Fully automatic, microcomputer-controller, freely programmable, 30 possible programmes, operator could set flexible.
High quality stainless steel, good appearance, long life. 
Full suspension shock structure,low shake, low noise, combination of shock absorbers and springs for maximum absorption, need no excessive foundations.  
Imported bearing, precise and durable.
Fixed screws support for long-distance transportation, avoid shaking damage during transit.
High quality inverter system, easily realize washing and extracting frequency stepless adjusting.
Multiple sealing system, oil sealing , water sealing, stainless steel sealing. 
Built-out bearing lubrication, simple operation, convenient maintenance.
Safety door interlock system, reduce fatigue, misuse and the risk.
All information is subject to change without notice.
| | | | | | | | | |
| --- | --- | --- | --- | --- | --- | --- | --- | --- |
| Model |   | XGQ-15F | XGQ-20F | XGQ-25F | XGQ-30F | XGQ-50F | XGQ-70F | XGQ-100F |
| Capacity | kg | 15 | 20 | 25 | 30 | 50 | 70 | 100 |
| Drum Dimension | mm | F670x475 | F720x545 | F800x545 | F905×500 | F1065×628 | F1200×600 | F1200×820 |
| Drum Voluem | l | 167 | 221 | 274 | 321 | 559 | 678 | 927 |
| Drum Speed(wash/hi-extract) | r/min | 40/850 | 46/800 | 46/750 | 40/750 | 38/720 | 38/700 | 38/650 |
| Motor Power | kw | 1.5 | 2.2 | 3 | 4 | 5.5 | 7.5 | 7.5 |
| Inverter Power | kw | 1.5 | 2.2 | 3.7 | 5.5 | 7.5 | 11 | 11 |
| Water Pipe | inch | | | | 1     | 1 1/4 | 1 1/2 | 2 |
| Air Pressure | mpa | | | | 0.4-0.6 | 0.4-0.6 | 0.4-0.6 | 0.4-0.6 |
| Dimension  LxWxH | mm | 1100x1000x1500 | 1150x1060x1550 | 1120x1100x1600 | 1340×1360×1722 | 1640×1570×1912 | 1750×1540×2132 | 1800×1925×2132 |
| Net Weight | kg | 520 | 580 | 700 | 1450 | 2200 | 2800 | 3100 |